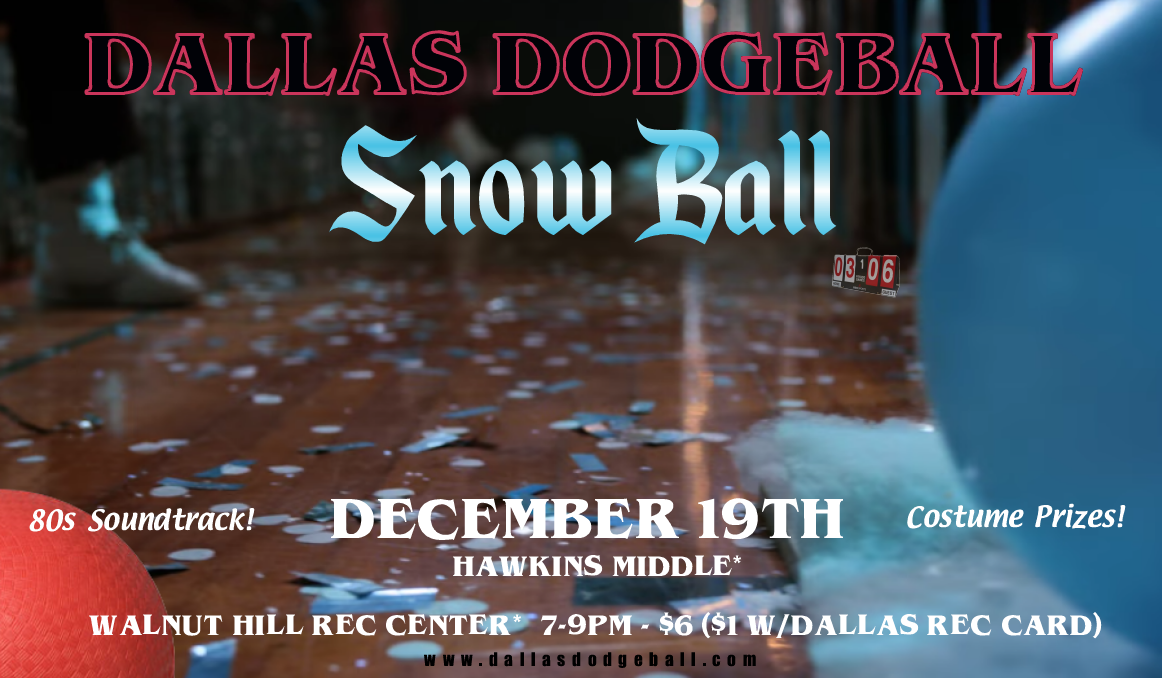 Snow Ball, Dallas Dodgeball's annual Christmas party for 2019, will take attendees back to the year 1984 with a cool '80s soundtrack, an '80s costume contest, and of course, the gym class favorite sport of dodgeball. On TV, Snow Ball was popularized in Season 2, Episode 9 of Netflix's series Stranger Things. In the episode, the young heroes gather at the Snow Ball dance, held at Hawkins Middle, after defeating the shadow monster. Standing in for Hawkins Middle will be the Walnut Hill Rec Center in N. Dallas. The public is invited to this fun event and everyone is encouraged to invite their friends, family and co-workers for even more fun. We will pick teams from attendees and play along to the cool soundtrack in our '80s duds.
Snow Ball Christmas Party
Public invited
December 19, 2019
7-9PM
Walnut Hill Rec Center
$6 per person or $1 with a Dallas Rec Card
No prior reservations required
Costumes not required
Prizes for best '80s costumes or Stranger Things costumes
Foam dodgeballs for everyone's safety
Show up late OK
Recommended ages 18 and up but teenagers competitive at the adult level are welcome to play.
After party at Fuzzy's Tacos for even more fun!
Walnut Hill Rec Center
10011 Midway Rd
Dallas, TX 75229
Snow Ball Event Poster