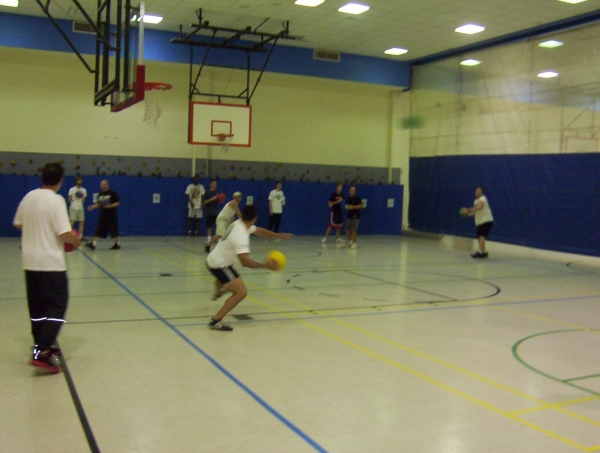 On June 18th, 2004, the movie Dodgeball: A True Underdog Story, starring Vince Vaughn and Ben Stiller, premiered. At the premier at the AMC 30 movie theater in Mesquite, Texas were Tom Wakefield and son Alex. On the way home from the movie, Tom and Alex discussed finding a dodgeball league in the Dallas area.

PHOTO: First-ever Dallas Dodgeball event on July 14th, 2004 at the Dunford Rec Center in Mesquite, Texas.
But upon returning home, an Internet search revealed there was no traditional dodgeball to be found in the Dallas/Ft. Worth Metroplex. So Tom, who is a website developer, decided to start dodgeball pick-up games in Mesquite if there was demand. He registered DallasDodgeball.com and created a rudimentary website asking the public if there was any interest. Because the movie was such a big hit, there were others searching the Internet for dodgeball in Dallas, and they would soon find Tom's website. Below is Tom's initial post:
As a youth I loved playing Dodgeball. I first played at Stemmons Elementary School in Dallas, then at Tyler Street Christian Academy (also in Dallas). As an adult, I was fortunate to play on my Marine Corps unit's "Warball" team, the military version of Dodgeball. Now, the new Dodgeball movie starring Ben Stiller has me yearning to play Dodgeball again. After watching the movie I thought I could just come home and search "Dallas Dodgeball" at Google and find a league. No such luck. So, I have posted this Web page in the hopes that I can find other people interested in playing Dodgeball in the Dallas area for recreational purposes. If you are in the Dallas Fort Worth area and have a similar interest please contact me. My thoughts are that if enough people are interested (ages 14 and up) that we could get together about once a month at a Dallas location to play Dodgeball. Contact me – Tom Wakefield – at [email protected].
Tom rented the gym at the Dunford Rec Center near his house on Wednesday, July 14th, 2004 from 7-9PM for the first Dallas Dodgeball pick-up games. A post on the Dallas Dodgeball website gives an account of the first event:
7/14/2004: Our first dodgeball meet was a big hit. It was non-stop dodgeball action for two solid hours as about 20 people from around the Metroplex relived their fifth-grade PE classes. Many of the games featured 8 on 8, 9 on 9, and 10 on 10. Play stopped only long enough to arrange the dodgeballs on the center line to start new games. With about 12 dodgeballs in play, there was plenty of hitting action. There were no injuries, although one guy got his glasses broken after taking a shot to the head, and I'm sure there were plenty of sore muscles in the days after the game. Most everyone agreed that this was the funnest thing they have done in a long time, and they are eagerly looking forward to the next meet.
Below is a screenshot of the DallasDodgeball.com website in July 2004.

Dodgeball II would be hosted on August 4th, 2004 and the rest is Dodgeball history!
Dodgeball II Featured in Mesquite Newspaper
The Mesquite News story "Ball Room Blitz – Movie spawns interest in dodgeball — the bygone junior high P.E. class competition" appeared in the August 5th, 2004 edition. The article, written by Mesquite News reporter Daren Watkins, was on the front page as the centerpiece story! The article featured player Jeremy Hill winding up to throw. (Dallas Dodgeball veterans knew Jeremy only as "Pick 3" because of the Texas Lottery shirt he would always wear.)  There is also a smaller photo of dodgeball player Jacob Edmonds, 9, about to be pummeled by several balls thrown his way.